Get a grip on your Dubuque crawler restoration with M884T Steering Handles
One of the first things you'll notice when you start looking at the early Dubuque crawlers is that few (maybe very few) have their original steering handles. They are sometimes known as "steering lever grips," and the reason is pretty easy to figure out. Theses grips are one of the few plastic parts found on these crawlers. Not only do they get baked with UV rays from the sun, but they are subject to operators pulling the levers back to turn, then releasing their handhold and letting the lever snap back forward. They can break when the levers hit the stops. Also, more often than not, the steering linkages are out of adjustment which allows the brittle grips to contact the dash shattering them to pieces.
I've seen them replaced with everything from homemade wood or metal handles to drilled and tapped 8 balls. They are available OEM, but you maybe could buy another crawler for the price you'd have to pay for them….until now.
We're happy to announce we have been able to get new ones manufactured to OEM specs but at a much lower price. Head on over to our website to pick up yours up to get a grip (or two) on your crawler restoration.
Keep Em' Crawling is working on creating NEW brake bands
Let's take a break and talk about brakes. We don't realize how necessary brakes are on a crawler till you operate one on a hill. Thankfully the first time I realized that was on a crawler with a dozer blade that was able to stop me before I crushed anything.
It's always a good idea to check the brake bands whenever you're doing steering clutch work and properly adjust the brakes after putting everything back together.
We've been overhauling brake bands for years now, because we've never like the way the aftermarket ones fit or rather didn't fit. Over time there has become fewer and fewer used bands in good enough condition to overhaul.
So we're happy to announce we have started the process of making completely new brake bands. We will be starting with models MC through 440C. Our goals is to have new bands that not only fit, but look like the original OEM bands.
We don't have an estimated production date as of yet, so stay tuned for future information.
Featured crawler: Ken's 1952 MC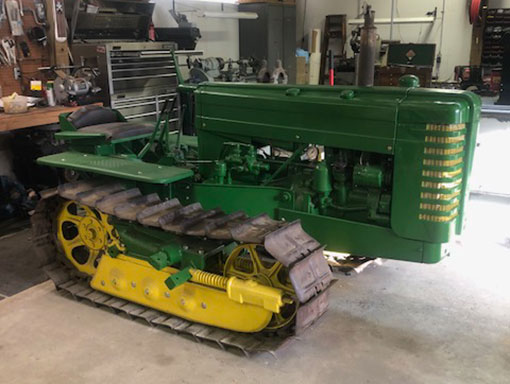 In our last newsletter we featured one of the 430Cs from our collection. This time we're going to do it a little differently. We're happy to bring to you from the state of Washington, a 1952 MC. I think I'll let proud owner, Ken, tell its stories in his own words.
"It all started 12 years ago. I was asking around the mill where I work as a journeyman Machinist, if anyone had a small cat for sale. I picked it up in Poulsbo, Washington, I went to take a look at it with the wife in tow. We both looked under a blue tarp. She threw her hands up with a disgusted look on her face. She told me to save my money and buy something better. Wasn't much green paint to be seen, but I saw a diamond in the rough and $250 I couldn't leave her there. Two days after she got to my place, she was running like a Swiss watch. I opened up the barn doors and walked up to the house and before I could say anything, the wife said "I Know I Can Hear It!!!" I used it for a year and broke a final. At that point I decided to restore it back to original. There were no 2 bolts left together. After about 10 years and a lot of skinned knuckles she's a thing of beauty!!!"
We have to agree with Ken. She does look good. It always makes us smile to know there are others who like to "keep 'em crawling" as much as we do. And were glad Ken let us be a part and supply him parts for this restoration.
Do you have a favorite crawler in your collection? We'd love to see it!
Send us pictures and information on your favorite crawler and we may feature it in future editions of our newsletter. You can send the information to keepemcrawling@gmail.com.